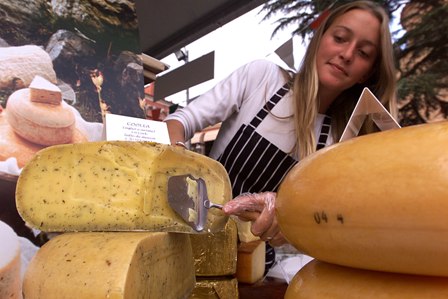 The worlds largest cheese festival is held bi-annualy (next one is 2009) in Piedmont, North West Italy, and is organised by the Slow Food movement. The event effectively takes over the small city of Bra - a medieval town on top a ridge overlooking the wine growing areas towards Barollo.
This is a very well attended event attracting visitors from all over the world, accordingly accommodation and transport can prove challenging so we advise visitors to plan ahead and research the event before you arrive. During the 4 days of the "Cheese" the roads into and around the city are closed and a free shuttle transport system runs to take you from provided car parks to the festival zone. Remember to make sure you note the car park number along with the route number of the bus that you take - there are a lot of different park and ride zones. Both parking and transportation is free of charge.
The event itsself is huge, certainly more cheese sampling than you could ever imagine, so pace yourself! There are many different exhibition zones including the "House of Goat Cheeses", a "Bierplatz" and of course a very large wine tasting festival. There are workshops and practical cookery courses to be had, most of which require reservation well in advance. During each evening of the festival there are organised trips to resteraunts in the surrounding countryside under the "dinner dates" theme. Note - you must pre-book taste workshops and dinner dates.
see some great pictures of the last "cheese" in our album Festivals and events in Piedmont
Rated Number one B&B/Inn in the Province of Asti (tripadvisor), we are a working vineyard in the heart of Piemonte wine country, offering luxury bed & breakfast and apartment rentals. We would be pleased to host you for your visit to the international cheese festival. For a larger booking (6 or more) we are able to offer a customised service with driver and guided tours if required. .More information about the festival.. More information about our accommodation.