Things to do and see in Piedmont, Italy
Visit the Gran Paradiso national park
This is an alpine park of outstanding natural beaty located in the North West corner of Piedmont and the Val d'Aosta. It is possible to reach the park boundary in about 1 hour from Vecchio Podere Santa Cristiana. Realistically alow about 2 hours to reach one of the central parts of the park such as Cogne - departure point for trails to the Gran Paradiso imountain itsself and home to the famous alpine gardens.
Gran Paradiso is very accessible by car so even those who prefer not to don hiking boots and take to the trails can see outstanding alpine scenery close up. For the more adventurous we have a collection of moutaineering and walking guides to the park along with large scale maps.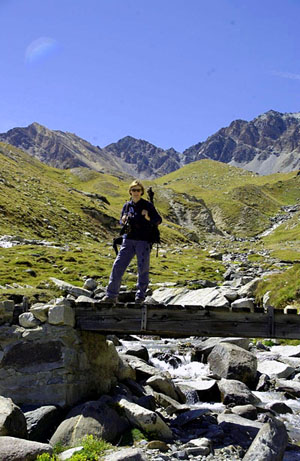 As this area is so accessible we often take a "flying" day trip and undertake a hike into the higher mountains in the Gran Paradiso. We have a lot more information about the alps here.
See more pictures of Piedmont Mountains