Things to do and see from Piedmont, Italy

Visit Genoa & the Italian Riviera
Only 1 hour from Vecchio Podere Santa Cristiana the historic port and city of Genoa is a must visit. History is this city's middle name - the birthplace of Christopher Columbus; the home of the first bank; embarkation point for the "crusades" there is a lot to see and do.
Wedged between the sea and the steep Appennini mountains the city stretches and winds its way along the coastline for many miles. The patient explorer will arrive in the historic centre of Genoa without being put off by some of the urban sprawl of the suburbs. We recommend arriving at the antique port where a massive restoration project has created a spacious and mainly vehicle free environment in which to explore. This area has ample car parking and combines modern with ancient in a not unpleasant harbour and marine complex. This area is home to Europe's largest aquarium, the museum of modern art,and departure point for boat tours both near and far.
The harbour is also the gateway to the walled historic city and its narrow streets and tall structures hide a wealth of treasures from exquisitely decorated churches to the remarkable cathedral, from the humble birthplace of Columbus to the palaces of the rich merchants of Genoa's prosperous past. Many of these latter "palazzo" are now museums and art galleries and it is possible to purchase a city pass that includes entry to all of them.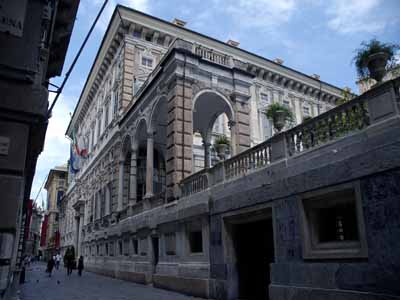 Visitors looking for a unique gift will not be disappointed with the narrow streets of the old town where small shops and traders offer a massive selection of unusual and well priced goods. As you wonder these pedestrian streets it is not hard to imagine you are in the middle ages having arrived in this great port by boat and seeing the confluence of so many cultures for the first time.
Here at Vecchio Podere Santa Cristiana we can help our guests plan their visit to Genoa and the Italian Riviera. We have extensive knowledge of the area along with maps and guidebooks for the use of our guests.