During 2007 we followed the life cycle of three vines in our vineyards throughout the growing season.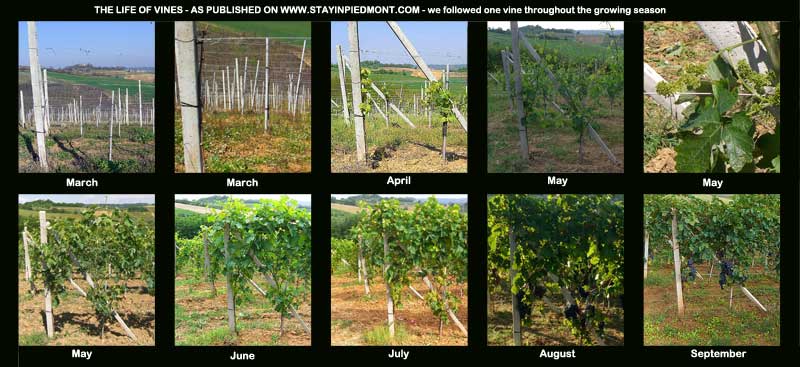 In the first three pictures below you see our vines in early spring, they have just been pruned and last years growth stripped off. They look devoid of life - but they will soon be green and fruiting once again, scroll down for the full story. This project is now complete - but watch this space for other intereting developments in 2008..
Vine 1 is in its 3rd year, the other two were planted in 1960. They are all Barbera d'Asti DOC vines.
* August update - spot the error! Vine 3 turns out to be a moscato vine - despite being in a barbera vineyard!
.Vine 1
(Click to enlarge)

Vine 2
(Click to enlarge)

Vine 3
(Click to enlarge)


March 2007


.

first buds - March 24


first buds - March 24


first buds - March 24
leaf growth - April 15
leaf growth - April 15
leaf growth - April 15
big growth spurt & vines now tied up - 1 May
big growth spurt & vines now tied up - 1 May
big growth spurt & vines now tied up - 1 May
May 15
May 15
May 15
June 5
June 5
June 5
July 9
July 9
July 9
August 3
August 3
August 3 *
September 3
September 3
September 3
"barbatelli" nursery vines for planting. With roots (right basket) and cut ready for planting with the T-bar (left basket)...
vine 1 - grape flowering detail
... and here is a freshly planted vine (just peeping up to the right of the plastic cane)
Replacing an end post in the vineyard (broken post removed and hole dug by hand)
double sellection - August 2007
Replacement post in situ and wires re-tightened

our new "top toy" - a specialist stapler to attach the vines to the trellis